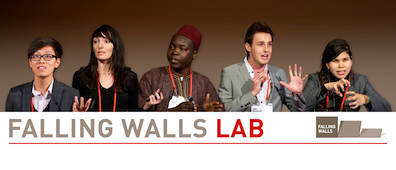 Dear Sirs and Madams,
We would like to call your attention to an innovative format for highly qualified young researchers with the ambition to break through societal challenges:
THE FALLING WALLS LAB BERLIN
8 November 2015 
About the Falling Walls Lab
With the slogan "Share Your Idea!" the Falling Walls Lab offers hundreds of young scientists, entrepreneurs and innovators from around the world a stage to pitch their research work, initiatives or business models to their peers and a distinguished jury from academia and business – in 3 minutes each. All disciplines are welcome!
The Falling Walls Lab is a cooperation project between the Falling Walls Foundation, A.T. Kearney (Founding Partner) and Festo (Global Partner).
Falling Walls Lab 2015 flyer: Falling Walls Lab Berlin

Falling Walls Young Innovator of the Year 2015
The three most intriguing presenters will be awarded the title "Falling Walls Young Innovator of the Year 2015", will receive a cash prize and will get the opportunity to present their idea on the grand stage of the Falling Walls Conference on 9 November 2015.
Applications
www.falling-walls.com/lab/apply
Application deadline: 31 August 2015
Impressions
Highlights 2014: https://vimeo.com/111603812
We would greatly appreciate if you could forward our call for applications and the attached e-flyer to young researchers and professionals within the networks of your institution.
Thank you and kind regards
the Falling Walls Lab Team
Falling Walls Foundation gGmbH
Chausseestr. 8e
10115 Berlin
Tel: +49-30-60 988 39-76
Fax: +49-30-60 988 39-79
lab@falling-walls.com
Follow us: Facebook – Twitter – Vimeo
The Falling Walls Lab Berlin on 8 November –
Young innovators present their ideas in 3 minutes: www.falling-walls.com/lab